Wall26 - "Almond Blossom" by Vincent Van Gogh - Floral painting on a soft gray wood paneled background - Wall Mural, Removable Sticker, Home Decor - 66x96 inches
Almond Blossom on gray wood background

In stock
Ships in 1-2 Business Days
About this product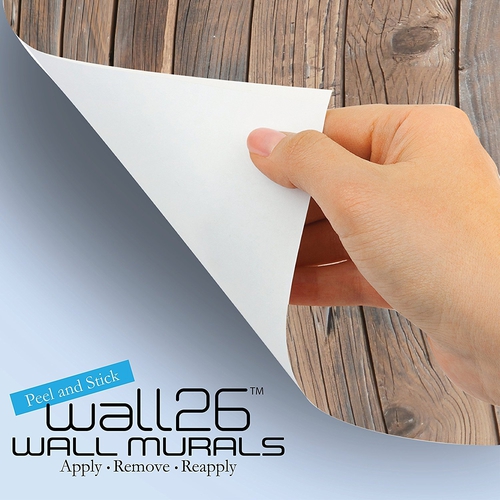 The wall mural is cut into 4 pieces for easy installation, each in 66"x24",total size is 66"x96" (Height x Width)
Very easy to apply, remove or reposition - Just PEEL & STICK!
Unique and one of a kind exclusive designs by Wall26®, for installation on flat dry surfaces indoor/outdoor walls doors and even windows
Won't leave a mark when repositioned like other cheap stickers on the market, no residue left behind
Product made in USA with fast shipping. 100% satisfaction guarantee.
Customer Reviews
Our Customers Say It Best
nice colors. Good printing. Would be better, if they warn you in the instructions that you should not put it on place side to side. And when you match the drawing, snapping is very visible on the wall. I think will be best for very smooth walls, mine have some texture, so from time to time i have to make sure wallpaper sticks to the wall
Picture quality is amazing! Shipping was more than lacking as it was merely rolled up and thrown in a box. Came with zero instructions so putting on was a charm. Do not put on flat paint it can not be removed. Which would've been nice to know!
I really like how this turned out! It was a bit difficult ensuring the pattern was level along the wall so a laser level would have been great. We just eyeballed it by lining up the thick line at the bottom of the first "board" from the ceiling and just made sure it was straight across the wall , then smoothed it on the wall up to the ceiling and down to the floor. The mural sticks well but can lose some of the adhering qualities with too much repositioning. The mural pieces are even numbered for a perfect flow to the pattern.
Thought I was ordering more of a wallpaper, but it turned out to be vinyl sheets. Works beautifully. I covered an island in the kitchen and it looks really nice.
So very easy to hang, looks beautiful. Can be cut into strips for creativity. Would buy again and again. 1 order fit my huge stage exactly how I wanted it to.
Simply wonderful!! Used in two different projects and loved the results!!
Very high quality, thick, and color true to picture. Comes in 6 sections. Seems to hold without adhesive, but hasn't been that long-- could peel later?
The quality of the print and the quality of the paper itself is fantastic, however putting up the panels themselves turned out to be quite a chore for a person who doesn't put up any kind of wallpaper or anything like that as a profession. I was disappointed to see at least four of the six panels had the cut Mark on the edge of it, so even if it was lined up perfectly, you would still see the blue line as a seam. We were able to put up one panel perfectly, and it looks amazing, but the other ones we couldn't get it to fit right. So the product itself is great, but for the average do it yourself or, be prepared for a lot of hassle just to get up six giant stickers onto the wall…