wall26 Beautiful Ocean View With the Moon Resting Above it - Wall Mural, Removable Sticker, Home Decor - 100x144 inches
Ocean View

In stock
Ships in 1-2 Business Days
About this product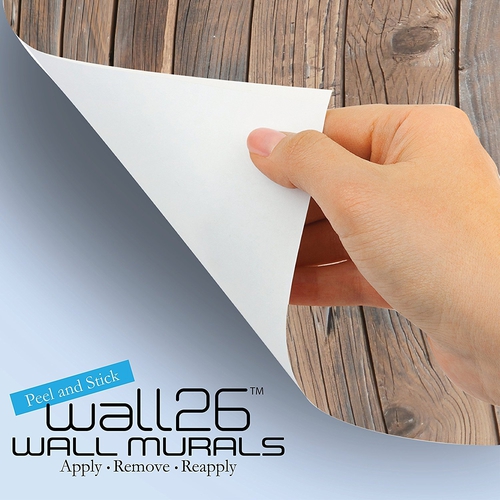 The wall mural is cut into 6 pieces for easy installation, each in 100"x24",total size is 100"x144" (Height x Width)
Very easy to apply, remove or reposition - Just PEEL & STICK!
Unique and one of a kind exclusive designs by Wall26®, for installation on flat dry surfaces indoor/outdoor walls doors and even windows
Won't leave a mark when repositioned like other cheap stickers on the market, no residue left behind
Customer Reviews
Our Customers Say It Best
Love the product but I thought it was wallpaper. Turned out it was sticky vinyl. The sections weren't marked or in order. Very hard to match seams without overlapping. Took two to hang. But after tearing it off and reposition because of unmarked panels it came out nice
After proper preperation and test fitting it went up relatively easy. To the person complaining about seems, it is designed with a 1/2" overlap for each section to prevent visible seems. The overlap sections are visible up close but not at a distance. If you try to go end to end you will notice 1/2" duplicated sections of the image at each seem. I had to custom cut the entire thing to fit on an odd wall in my daughters bedroom and still managed to make it work. I took extra cut off and was even able to wrap a light switch cover quite nicely with the vinyl. The small area that has to wrap around a corner isn't sticking too well, but I don't expect that it was designed to. I will most likely add some molding to accommodate it.
It took some work, but we are very pleased with the end result. It took me and my husband the better part of a day to install ours. I highly recommend not going it alone and having someone help you.
we chalk lined a line up by the ceiling. We decided to go right to left due to the positioning on the wall and so had to get out the exact opposite knife for a coupletter panels where the line edge was visible and we needed it to overlap on top of the previous panel. For the most part, we followed the directions precisely. however when we got to the panels with the planets, we opted to remove the liner all the way down to the planet's edge to ensure that critical point lined up correctly (we had been off by a little towards the bottom of all the prior panels but it wasn't really noticeable unless you were knit picking). It was therefore very stressful getting them to line up just so all the way down but overall, we are very happy with how it turned out.
We can't wait to surprise our boys tomorrow with their new mural!
We plan on putting trim around it so the boys don't pick at the edges.
Love love love the quality and beautiful sunset but it is absolutely impossible to lose, cover or hide the seams NO MATTER WHAT YOU TRY, I am so bummed because it truly is a great product but I gotta look for a single seamless mural. A for effort!!
Looks awesome. Took a little while to line up the panels and press out the air bubbles, but the overall installation process was easier than expected. Glad we had two pairs of eyes and hands to get the job done quick (and straight).
AWESOME!!! My office is beautiful!!! Better than expected. Easy to put up, and reposition until you have it lined up. We overlapped it about 1/4 inch., and started at the left, then put up all 4 in order. Very simple! I will buy one for home now!!! Be sure to get the self-adhesive, repositionable wall murals! So easy!
Great item just as promised
HORRIBLY DISAPPOINTED! ! The picture was cut into sections very poorly. It looked like it was cut with a dull scissor by a five year old. The edges were shredded and it was cut unevenly. Needless to say, the picture does not line up properly! What a waste of money. Unfortunately, I got what I paid for. Next timeI will not buy from this company and will spend the extra money for a QUALITY product!!!!
They did a good job putting it up, adds to the atmosphere of my daughters tanning salon.