Wall26 Canvas Print Wall Art - Almond Blossoms by Vincent Van Gogh Reproduction on Canvas Stretched Gallery Wrap. Ready to Hang -24"x36"
Canvas - Original Color

In stock
Ships in 1-2 Business Days
About this product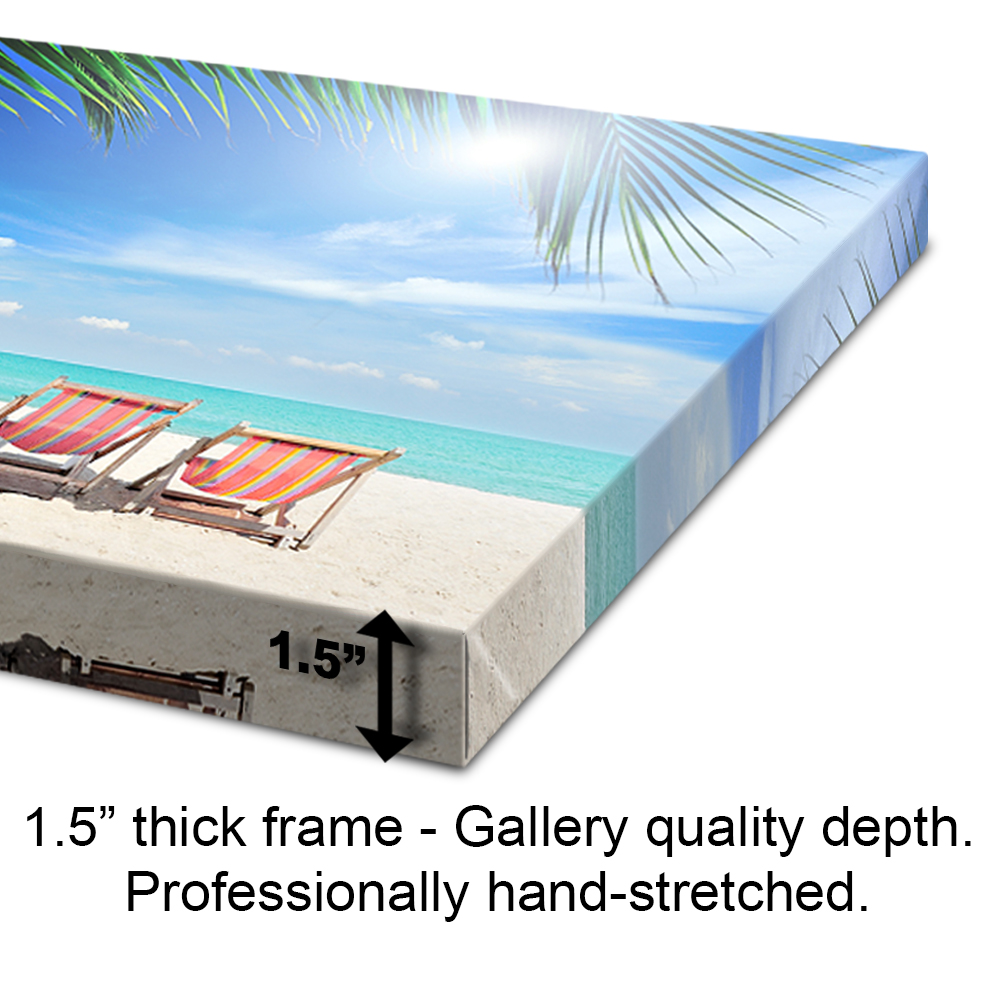 High quality printed canvas stretched and stapled to durable shrink resistant frames.
1.50" thick stretcher bars for gallery quality profile.
Canvases are printed and hand stretched in the USA by professionals.
Hanging accessory kit included.
All Wall26® Products are made in and shipped from the USA.Be aware of counterfeit sellers with inferior products. Our products will never ship from China or overseas.
We use high quality canvases which are designed specifically for canvas printing. Our canvas is a white semi-gloss artists canvas.
We use latest HP Latex inks during printing process allowing our products to be fade resistant for up to 100 years.
Canvas pictures are stretched on wooden stretcher frames. All frames are of the highest quality.
Customer Reviews
Our Customers Say It Best
So pretty! This canvas art is perfect. Great quality. I would highly recommend this.
Awesome picture looks good on my wall.
Looks very cheap and picture is blurry.
It is exactly as you would expect and I like it. However where the frame meets the canvas, may be due to shipping, I see a crease. It is not visible but from certain angles all you can see is that crease. :\
See the vertical left edge in the picture.
Outstanding piece. Highly recommend this seller
Colors brighter than actual. The one I received was darker and eerie looking.
This wall26® - Vincent Van Gogh Canvas Print Wall Art - Almond Blossoms Modern Home & Kitchen Wall Decor- Stretched and Ready to Hang -18"x24" is a fantastic piece of art! It is great quality for a great price when it comes to wall art and decor. I was so impressed when I received this Canvas Print Wall Art. The canvas and paint are really good quality. It is beautiful and can fit any where in your house. I would definitely recommend this canvas wall art for any one looking for some great quality wall art at a great price! You really can not beat this! I can wait to add to my collection. It was very easy to hang up. It has 1.5" Thick solid wood stretcher bar and very good quality paint was used on this canvas. It really is a beautiful canvas print wall art. The dimensions are 24.3 x 18.7 x 2.5 inches so it will look beautiful in most places. It is a great size! I am very impressed with this piece of art and really recommend this to any one who loves art and wall decor! I received this product at a discounted rate or for free in exchange for my honest opinion and review.
For the price range, you cannot do any better than this. Adding the brackets (included with purchase) was not difficult. All you need is a screwdriver and about 3 minutes. Frame is sturdy. Canvas is high quality. The omage
I am so impressed with how well this art is, the colors the way it is stretched over the frame it is perfect. I recently painted my room and bought an new bed and this was the perfect piece to have over my bed. I have shown off my art to friends and family that stopped over for family night get together all are impressed with it as well as I am. Almond Blossoms is great, I have been a huge fan of Vincent Van Gogh and this is perfect for me. I do recommend that you are looking into buying art for your room or living room to get this one you will not be sorry with the purchase. It was packaged so great well protected, just put the hardware on and hang. I was able to get this at a discounted price to review and to leave my honest feedback on.
Beautiful canvas print wall art. It is very well made and very beautiful. It comes with accessories to hang. It is easy to install them and hand on the wall.
Great quality work for an amazing price.
I highly recommend it.
**I received this product free in exchange for my honest and unbiased review.
See all 42 customer reviews