Wall26 - Large Wall Mural - Close up of Beautiful Red Rose with Waterdrops | Self-adhesive Vinyl Wallpaper / Removable Modern Decorating Wall Art - 66" x 96"
Red Rose

In stock
Ships in 1-2 Business Days
About this product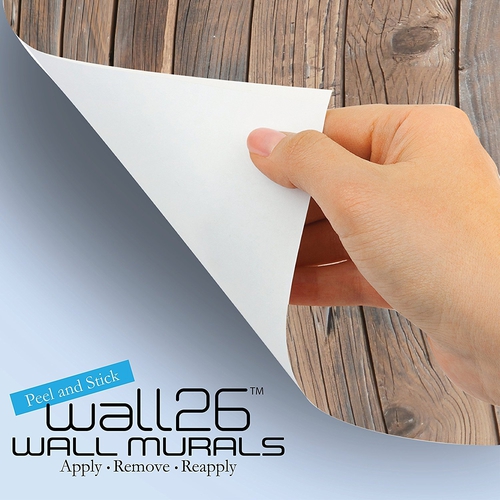 The wall mural is cut into 4 pieces for easy installation, each in 66"x24",total size is 66"x96" (Height x Width)
Very easy to apply, remove or reposition - Just PEEL & STICK!
Unique and one of a kind exclusive designs by Wall26®, for installation on flat dry surfaces indoor/outdoor walls doors and even windows
Won't leave a mark when repositioned like other cheap stickers on the market, no residue left behind
Product made in USA with fast shipping. 100% satisfaction guarantee.
Customer Reviews
Our Customers Say It Best
This is NOT removable!!! When trying to hang it and if we had to readjust, it COMPLETELY pulled the paint off of the wall!! If we ever remove this we will absolutely need to repaint. This is by no means easily removable and they claim it "won't leave a mark on your wall like other cheap sticker, no residue"...but it completely takes the paint off the wall. I would never purchase this again.
I LOVE this!! It went on very easily. It does take two people to put it on. Make sure to clean the wall before applying. It helps it to stick easier and with less bubbles. The only issue we had and why it doesn't get 5 stars, is the fish don't line up if you want the top to line up. It has to overlap in some areas, and then on another one the top may not line up. Minor details as my husband and I figured it out and it was only one fish that was out of alignment. This is really sticky we couldn't peel it off to fix it, you can't see it unless you look real close. We're not perfectionist so we can live with it. All in all I love this. Here is a picture. We did not have enough room to use all 4 sheets. But it still looks amazing. We have a long skinny bathroom, this helped open up. Totally changed the look and feel of this bathroom.
Not as big as i thought but it did the job. Was a little difficult to pit together but at the end it ia beaitiful
Exactly what I wanted for my rustic nursery!! It looks just like the picture and for $100 it covered my whole wall!
Installed on an accent wall in about an hours time. So easy to line up design. Still can't believe it's peel and stick. Even my skeptical husband now loves it!!
Absolutely beautiful!!!! Easy to apply and it looks great! I had no problems put it up by myself but I can see whers a second pair of hands may be helpful. It just takes a little patience to get everything lined up but if you follow the suggestions of other reviewers you should have any problems. I would like to suggest including some directions in the packaging because there aren't any and it may be helpful. I also recommend using a razor blade or exacto knife to trim around outlets or lightswitches. I can see the seams but that's just because I know where to look for them. All in all I would recommend this item and I would absolutely purchase it over again!
I absolutely love this wallpaper. It looks amazing in our leaving room. It was also very easy to put up on the wall.
Unfortunately this product looks much cheaper in person than it does in the picture. The printer DPI (dots per square inch) are evident, making it look some laser printed my wall. This may work for a kids room or fun wall image, but for the Asian-style painting that I purchased, it does not have the right fit for a guest bedroom.
Strongly advise buyers to read the return policy before you purchase.
See all 17 customer reviews