Wall26 Wheatfield with Crows by Vincent Van Gogh - Canvas Print Wall Art Famous Oil Painting Reproduction - 24" x 48"
Wheatfield
Temporary Out Of Stock
About this product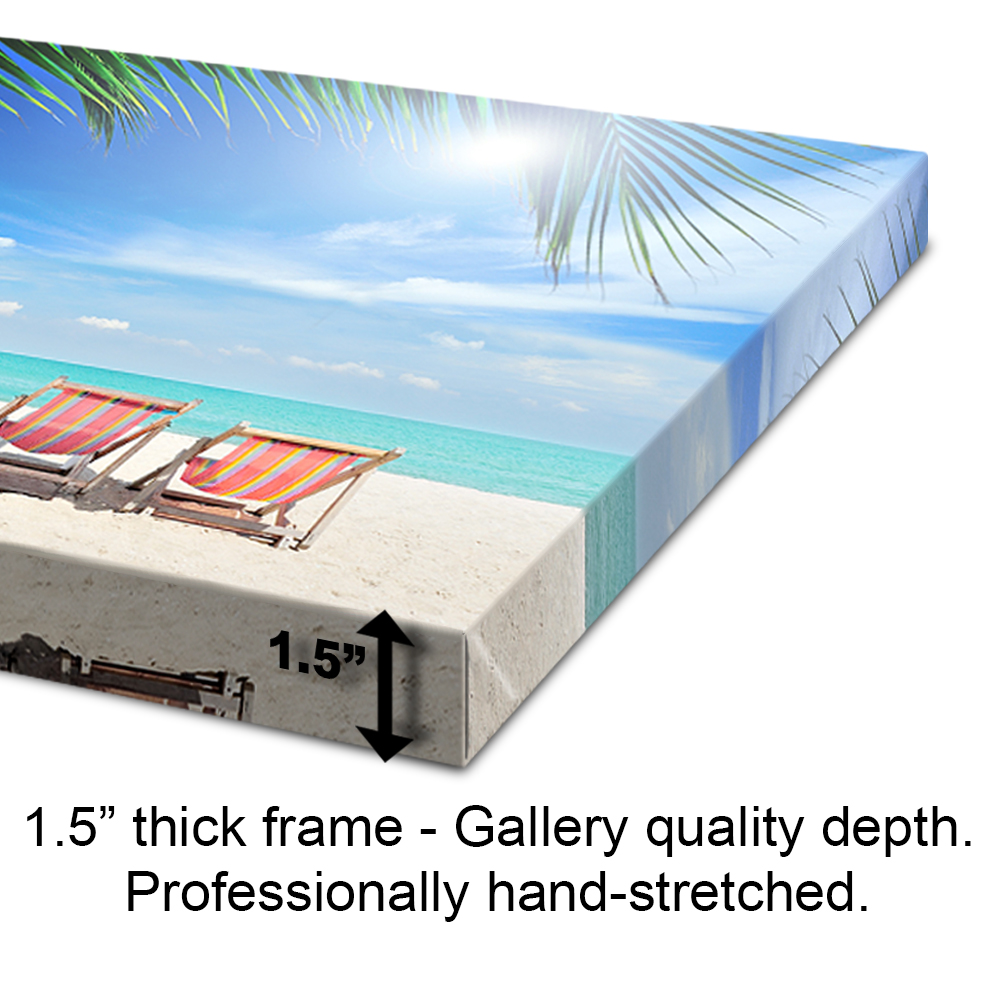 High quality printed canvas stretched and stapled to durable shrink resistant frames.
1.50" thick stretcher bars for gallery quality profile.
Canvases are printed and hand stretched in the USA by professionals.
Hanging accessory kit included.
All Wall26® Products are made in and shipped from the USA.Be aware of counterfeit sellers with inferior products. Our products will never ship from China or overseas.
We use high quality canvases which are designed specifically for canvas printing. Our canvas is a white semi-gloss artists canvas. We use latest HP Latex inks during printing process allowing our products to be fade resistant for up to 100 years. Canvas pictures are stretched on wooden stretcher frames. All frames are of the highest quality.
Customer Reviews
Our Customers Say It Best
Item arrived as described, nothing was broken or damaged as some reviewers noted so that was a relief. In hindsight, I should have bought one of the smaller print, 24"x48" is huge, but a great print nonetheless. The only issue I have with the print is the lens flare, you can see the flare in the photograph but in person it's a bit distracting for me, I'm sure over time I'll get used to it, so not a deal breaker, just where to put it now...
The Canvas is HUGE!!! Now everyone that enters our house gets a taste of the skyline of my wife's birthplace, Toronto. We love it. She was skeptical at first but now that its on the wall she's glad we made the purchase. Would also look good over the bed or sofa as pictured in the product details. I would have given it 5 stars but the frame is not made of the "best" wood, which is understandable for the price point. We love to travel, so our home is lined with our own photos stretched onto canvas from European cities and this pulls all those together very nicely. It is true to the colors shown in the picture, very vibrant blue sky and red on the CN tower and the contrast off the dusk horizon in the distance allows the city skyline to come alive on the walls.
Looks great on my wall above our bed!
Not only the item arrived 1 day late, but upon opening the box I found the frame broken on one side and the canvas loose on the other side. The frame is very flimsy and the canvas sheet is so thin that you can see the frame silhouette from the front. The canvas is also very loosely bound to the frame. It comes off on all sides. There is also a white spot in the front making it look like earth is going through a new ice age. It's a beautiful piece no doubt, but very disappointed with the late delivery, broken frame and the white spot. Definitely not worth $60 ! I hope they send me a new fresh one.
Canvas is pretty poorly stretched. Arrived damaged-wooden frame snapped but not to the point it lost all its stability, not sure if from shipping handler or whom but could have been better protected.
That said it's still a "cheap" piece and I don't mean that in a bad way. Despite the frame damage and the not so great stretching it's not terrible, and still worthy of putting up. Nothing was so bad I felt the need to return or ask for a replacement. If you're looking for a center piece or something to get up close and personal with, you'd be better off spending the money on a more premiere replica(duh!). I'd say there is value in it for something you'll hang to accent a room. In that sense it looks fantastic!
To be honest I wanted to give this a 2 star rating. But I thought about it and ultimately decided I've paid more for worse. Like a broken record; It's a matter of value... for the price and what my intentions were I am very happy. For the price, I can't ask for stronger wood in the frame but a fragile label that I didn't see on the package(I may have just missed it) might have prevented the damage?
Extremely poor print quality. Guess I shouldn't be surprised, given the price, but it looks a lot worse than in the product photos. Even standing all the way across a dimly lit room, you can still tell how bad it looks.
Great piece on a wood frame. Packaged well also.
Equisite rendition of this Gustav Klimt painting! Hangs above doorway to my bedroom s!
See all 14 customer reviews