Wall Murals
Close Up View into a Pure Green Bamboo Forest Wall Mural

In stock
Ships in 1-2 Business Days
You may also like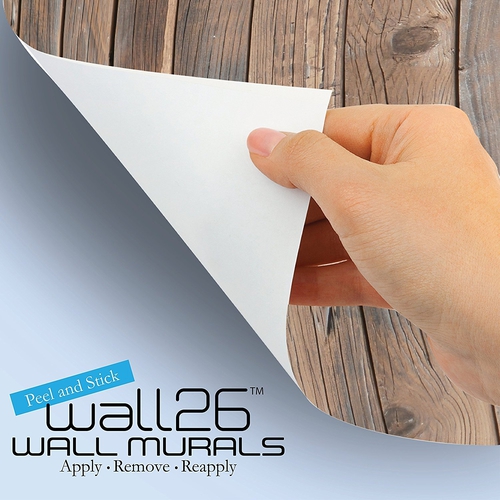 The wall mural is cut into 6 pieces for easy installation, each in 100"x24",total size is 100"x144" (Height x Width)
Very easy to apply, remove or reposition - Just PEEL & STICK!
Unique and one of a kind exclusive designs by Wall26®, for installation on flat dry surfaces indoor/outdoor walls doors and even windows
Won't leave a mark when repositioned like other cheap stickers on the market, no residue left behind
Product made in USA with fast shipping. 100% satisfaction guarantee.
Customer Reviews
Our Customers Say It Best
super cool looking and easy to put up
I used this to create a cover for our fireplace in the warm months. My husband cut a piece of plywood to size and we used two panels to stick to the plywood. Beautiful! And I had two more panels left over to stick on a smaller wall.
Piece #2 does not line up with #1. At the top where the 2 meets the tree ends on piece 1 but part of it is on piece 2. Ok I'll overlap it them, still doesn't work because the branches don't line up then the bottom shade doesn't line up. I've spent 2 hours trying to get it to line up as best as possible but just doesn't work. It seems that when the photo was cut, but piece one was cut from one photo but piece 2 was a cut piece from another photo that's why it doesn't line up. It's off cut and piece 2 was from a photo that was slightly zoomed out more than the photo piece 1 was cut from.
It was super easy to put up and looks great in my house. I ordered another one so I can feel like I am in the forest, it fits my house wonderfully!
Lrieber
Two panels #2 and #3 do not math and there is no room to shift them up or down. It looks just awful. To get a refund I have to send the mural back....How can I send the item back if a half of it is on the wall??? I did have a professional who was trying to install the mural, and he was hopeless to do or to fix anything with it - because it is the obvious manufacturer's defect.
I'll be taking the pictures and posting them shortly
Not quite as easy to install as stated. ( My daughter ordered this for den in her new house. Somehow it ended up being up to me to instal. ) Problem is lining up edge and top at same time. Obviously it would look odd if the image didn't line up where the panels meet, so that's the priority. Found it was easiest to let a inch or so go up beyond where wall meets ceiling, line up edge accurately, and then trim excess off top. Probably easier if you are lucky enough to have PERFECTLY square rooms, I've never been this fortunate. Having said this, the upside is the material is heavy, sticks VERY WELL, and is VERY forgiving. After a couple attempts on each panel ( it's like 6 giant rolls of wallpaper ) it came out perfectly. Looks great in my daughters GAME OF THRONES themed TV room. You can almost image Robb and Jon will come riding out from amongst the trees. :)
I recieved my box and immediately wondered if it was damaged because the box it was in was bent. It's packed in a bag so it was a little bit removed from its sticky backing. I installed by myself and prepped the wall by sanding and smoothing with a small pad (very easy). My walls are textured. People and the manufacturer said not to install on textured walls but it worked out. The picture is cut in 6 sections and numbered 1 starts to the left of the wall and work your way. They are printed to overlap a bit so do it to make sure the picture is matched correctly with each other. With one persons help you can do this in an hour or maybe even 45 minutes. I did it in 2 hrs by myself with assistance from my 5 and 7 year olds. Great for the money. Awesome awesome awesome!!!!
I'll start by saying this does look pretty cool when its up on your wall, sadly it won't stay up there for very long without help from a nail or screw. It also takes about 2 hours to get it the wall ready and the panels put up correctly. Also just a heads up- some of the panels are not labeled correctly. My number six panel was labeled as a number 2 panel. Thankfully I caught it early but that error could have been a disaster had I not laid it out before putting it up on my wall. The biggest issue I have with this product is it only sticks to your wall for about two days. I followed the directions perfectly but I woke up one morning and found that the print had lost its stickiness to the wall and folded over on its self- adhesive side to adhesive side. This left creases and blemishes that could not be smoothed out once I had to restick it to the wall. Much to my dismay, the print once again fell down again, creating more unsightly imperfections. The only way I could get it to stick to the wall was to literally nail the panels to the wall. For around the $100 I paid for this product, I expect it to stick to the wall 100% of the time, for the duration of the products lifetime - not for it to fail in the first two days of installation. I can only describe the quality of the adhesive as Chinese quality at best. Additionally, the images for the prints are not all that sharp and they'll probably not mail you the image you ordered (like what happened to me). Mine print was pixelated, wasn't the image I ordered (but it was still cool), and some of the trees are literally just black smudges. All in all, there is nothing high quality about these prints. If this was a $25 dollar product (probably closer to actual worth of the product) then it'd get a higher review. Since this product is pretty expensive and doesn't actually work like you want/expect it to, I had to give it two stars (one star for again being pretty cool). I highly encourage anyone thinking about buying this product to reconsider your purchase as the headache you'll get from this product is NOT WORTH the effort and frustration you'll have to deal with. Avoid it and buy something else. Tapestries are just as cool, cheaper, and are easier to handle. Plus if they fall down they won't be destroyed.
The image was very pixilated and it kept falling off.
Just put up the "Forest of Bluebells" behind my son's crib in our room. It looks great!! Like he is going to be sleeping in a forest and I love looking at it. It was relatively easy to put up by myself, I used a plastic smoothing tool to help. Very happy, and hope it stays up well!
See all 13 customer reviews