Wall Murals
Grunge Red Brick Wall Background with Copy Space

In stock
Ships in 1-2 Business Days
You may also like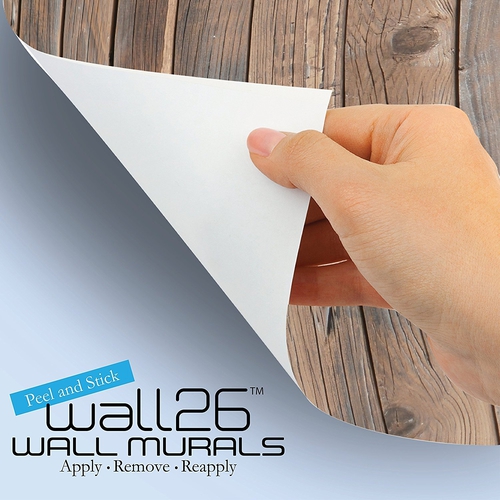 The wall mural is cut into 6 pieces for easy installation, each in 100"x24",total size is 100"x144" (Height x Width)
Very easy to apply, remove or reposition - Just PEEL & STICK!
Unique and one of a kind exclusive designs by Wall26®, for installation on flat dry surfaces indoor/outdoor walls doors and even windows
Won't leave a mark when repositioned like other cheap stickers on the market, no residue left behind
Product made in USA with fast shipping. 100% satisfaction guarantee.
Customer Reviews
Our Customers Say It Best
Easier to hang than I thought. Follow the instructions exactly and it looks like a pro did it.
Went up easy and looks great. I deducted a star because the image is brightened to seem white; it is gray. I am using this as a semi-permanent photography background and was expecting white. I can work with the gray but had to change other plans. As far as overlapping seems, I learned a trick a long time ago when required to overlap wallpaper or similar: after the overlap is in place, trim in a wavy pattern along the overlap. When you remove the cut pieces, the overlap blends much better than trimming a straight line. Photo shows after above the before.
It comes in 4 strips. You overlap it to apply it but it has to line up perfectly or it looks crazy. It is not perfectly cut for all pieces causing gathering in some parts. Best to use painters tape to connect strips together so as you apply the next strip it is lined up before you remove all adhesive backing. Minimum 2 person job and be patient.
I had to accept my creases on the art because one strip wasnt perfectly cut ?
The end product is beautiful! It is definitely tricky to get the panels to line up perfectly, but I enjoyed the project. I'm looking for more walls in my home to transform!
Easy to install, looks very good,
Extremely pixelated like it was a bad attempt at a copy. I sent it back!
Very pleased with the results!! I did an entire wall by myself - it takes time, patience and some skill to apply. The stickiness of the adhesive is such that you can relatively easily remove and realign if you make a mistake. Good product!!
My apartment entry looks awesome! I couldn't stand the white walls any longer. It has a great grip and yes is removable. I struggled a bit in the corner and where the beam comes down but on a flat wall, could easily be a one person job
This is a terrific product! It's not a repeating pattern of bricks, it's actually one life-size reproduction of a complete wall. The adhesive is easy and non damaging to the underlying decor.
See all 23 customer reviews