Wall26 - Large Wall Mural - Seamless Floral Pattern | Self-adhesive Vinyl Wallpaper / Removable Modern Decorating Wall Art - 66" x 96"
Seamless Floral Pattern - 17

In stock
Ships in 1-2 Business Days
About this product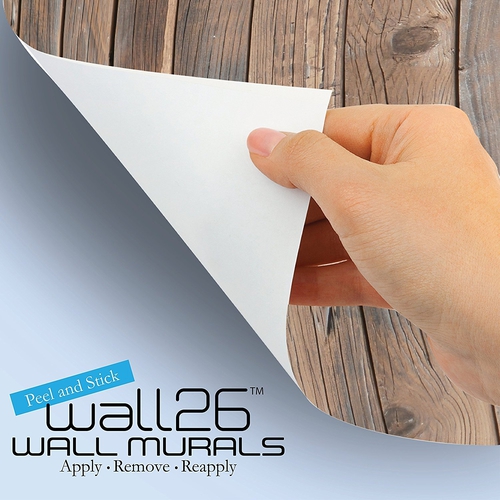 The wall mural is cut into 4 pieces for easy installation, each in 66"x24",total size is 66"x96" (Height x Width)
Unique and One of a kind Home Wall Sticker Design - by BestDealDepot
Very High Quality Self-adhesive Vinyl with 7+ year exterior life! Very easy to apply, remove or reposition - Just PEEL & STICK!
You can put it by yourself indoors or outdoors: walls, doors, widows or any flat and dry surface!
Won't leave a mark on your wall like other cheap sticker, no residue!
Product made in USA with fast shipping. 100% satisfaction guarantee.
Customer Reviews
Our Customers Say It Best
Great product and very decorative
I got these Wall Mural / Modern Home Decor Creative 3D Visual Effect Wall Sticker for my living room, because it just seems so plain.
You get three rolled up sheets containing Pearl in a Shell, Flower and Zen Stones. I think these are very relaxing photos, and fit great on any white wall. Each sheet is 14"x14", which I think is a pretty decent size.
These were very easy to put up. I did end up with a few bubbles,but nothing noticeable, and you cannot tell unless you are on top of the decals.
Overall, a good way to add color to your rooms! I received this product for free in exchange for my honest opinion
Pretty cool cling. The paper is thick and strong (wont rip when you take it off the backing.). My only problem was that it looks weird on my textured walls. I think I will move it to another room with a different wall texture. Overall very realistic. Also, if glare from your lamps hit it it will show. 4 stars.
I received this item at a discount in exchange for a review.
EDIT: Taking this down to 1 star (The lowest option)
When I removed this from the wall it pulled paint off with it. This is not ok in my book and now I have to go back and fix my wall. A total bummer for buyers and renters alike. I suggest a lighter adhesive to keep this from ruining the surface.
This is a beautifully designed mural that I have happily added to my restroom. They were easy to apply and I sure hope they do not fall off of the wall with time due to the moisture, but so far they appear to be able to stand the test of time. I also like the 3D design element of it and it makes them look even better because it looks like the art is really inside a hole in my wall. Overall, this is a great little mural set that was easy to apply. They look super great and it modernizes my old restroom a little with its simple yet great look. I received this product for free for an honest and unbiased review. I am not obligated to provide a positive or favorable review, just my honest opinion. My review is based on my experience with the product and/or brand, which may differ from yours.
I was initially a little concerned when I received these (at a discount in exchange for my honest review) because they were rolled very tightly and when unrolling they had long vertical air bubbles in them. But these came right out easily when the murals were hung. They look pretty nice, although I had initially thought of them for the bathroom, and it's too close to have the desired effect. If you put them where they will be seen at a greater distance (5 feet or more) they have a much bigger impact. Also, be sure you measure and understand how large these are. The 16" ones are really big! As for the actual images, those are a matter of personal taste, but the ones I got were very well represented in the ad. They really are thoughtfully made and give the illusion of being shadowboxes! For the price and the impact that these make, they are definitely 5 stars.
This is a pretty nice set of decals. It was a cold day when they delivered and they were difficult it get to unroll. I opened up the roll and placed an ipad on them to flatten for a few hours while they warmed up.
They look really nice, I'll be uploading pictures shortly for the meantime I have pictures of me flattening them and the roll.
I revived a discount on this product in exchange for an honest unbiased review.
It was bigger than i expected.This is beautiful on my wall.I'm so glad I discovered them.It enhances room's look. All the stickers are durable and stick firmly. All the stickers are designed tastefully. I recommend you try these stickers and play around with them. I do think that they are worth the price. Only thing i didn't like is the packaging,they were folded little too much. They are easy to remove and adjust if you don't stick it on just right the first time.I bought Spa Theme Pearl in a Shell, Flower and Zen Stones and love it.I received this product for free in exchange for my honest, unbiased review.
I love how simple this were to place on my wall. I simply picked a clean area, and removed backing to apply. Just like a large sticker. They are very stylish, and really livened up the area where I placed them which was rather dull previously.
I received this product for a discount in exchange for my honest and unbiased review.
I love this 3-piece Spa Themed Wall Mural. It's beautiful and the soft colors give them a feel of peace and relaxation. They're the perfect size and theme for my bathroom wall. They're easy to clean with just one wipe, and they easy to stick on the wall. Just gorgeous! This 3-piece set is also very easy to accommodate' in small spaces as they are in larger spaces. I received this product for free in exchange for my honest review.
Love it! This is my second order because I'm using it in more places than I thought.