Wall Murals
Large Wall Mural Seamless Wood Pattern Vinyl Wallpaper Removable Decorating

In stock
Ships in 1-2 Business Days
You may also like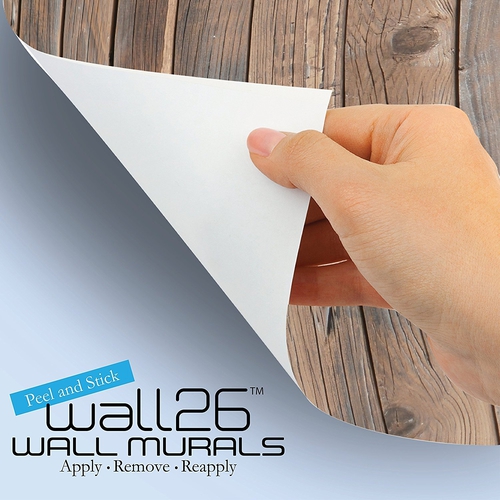 The wall mural is cut into 4 pieces for easy installation, each in 66"x24",total size is 66"x96" (Height x Width)
All Wall26® wall murals have a durable water resistant matte lamination. Print is protected and long-lasting, can even be wiped clean using household cleaners
Very easy to apply, remove or reposition - Just PEEL & STICK!
Unique and one of a kind exclusive designs by Wall26®, for installation on flat dry surfaces indoor/outdoor walls doors and even windows
Won't leave a mark when repositioned like other cheap stickers on the market, no residue left behind
Won't leave a mark when repositioned no residue left behind.
Unique and one of a kind exclusive designs by Wall26 for installation on flat dry surfaces indoor/outdoor walls doors and even windows.
Very easy to apply, remove or reposition - just peel & stick.
Product made in USA with fast shipping. 100% satisfaction guarantee.
Customer Reviews
Our Customers Say It Best
I love my finished wall and I have had many compliments. But beware, this is a big project! It's exactly like placing a giant sticker on a wall while keeping it perfectly horizontal and while matching the lines with the previous piece. At times it was stuck to my clothes, hair, and cheeks. We ended cutting it into smaller pieces and hiding our seams with paint and a Sharpie marker. My wall looks awesome...as long as you stand back about 8 feet. Good luck!
I put the first bundle of 4 rolls up, and it looked great. I started the second bundle, and it was obvious that the next bundle was a lighter hue. I ordered them together, so I am disappointed in the quality control. Eventually, I took it all down. On the bright side, it didn't take the paint off the walls or damage the plaster.
Update: the company contacted me and offered to replace my order or to refund me 35%. I took the refund, because I was worried I would run into the same problems with the replacement. The refund showed up in my account within a couple of days.
I bought these for my motel to liven up the rooms and they were easy to put up. They were beautiful however, they do not last they fall off, bubble, crease and are ruined. Not to mention the paint on the wall is destroyed that was beneath the mural. I bought over 20 murals from this company . What a waste of money.
This product is totally awesome! It looks like real wood when installed appropriately.
I don't even want to give this product a 1. From start to finish, this was a nightmare. The paper ripped, it was very difficult to put up and I ended up not using it at all. Was trying to save some money and I ended up wasting some. So disappointed and frustrated. Will consider a professional next time or spend the extra on actual wood planks.
I expected this to look a lot better, especially when comparing other customer images with positive reviews. However, the print (seamless wood pattern, 66x96) is very low resolution especially for the price.
At a distance it may look okay, but up close it looks like blurry garbage.
I decided to try this even after reading the mixed reviews on wall damage. I actually wanted to do stripes, so I insanely cut all of these pieces into thinner stripes (just keep them organized so they still line up!). I have to say, these came out great, lots of compliments. And, no trouble at all peeling off and repositioning (which I had to do a LOT). My walls had been painted a few months prior with a satin paint (not flat), and the walls were in good condition, so I'm sure that helped. But, these were relatively easy to do (one person), even with my insane add-on of making them stripes and having to measure them all out. Would definitely recommend this, and I am even considering using this in my mudroom, and maybe over my fireplace.
Bought this for our grandson's nursery wall. They live in a rental & we couldn't use real wood. It went up easily & looks amazing!
I'm a bit torn on this one......I've experienced others that seemed to go up a little easier but these were full sheets over pieces and I was in my own so that could have been my issue. Sticks well but not too sticky, you can rearrange as needed when installing. Once up, seems to be adhering well.
However, my issue.....I apparently needed more than I originally ordere, miscalculated somehow. So I reordered the same to complete my project. However, the new set had a different hue, more reddish than my original, and was NOT a match. Very disappointing. I couldn't use it and now the area's too small for the look I was going for. Not sure if I should buy more and try again or just tear it all down :( Good money after bad and all that.....I assume it would have been a match if I had ordered in one batch however since I did order 2 at a time on each and both packages/batches did match one another. Just be sure to order ALL you need at once and I assume you'd be fine.....
I put this up on my wall last week and it looked great. We got a lot of compliments on it. It was a little difficult to put up with just one person but I got it up and it looked really good. Yesterday morning a big section of the wall mural fell down, and I was able to re-stick it to the wall. This morning the same section fell again and now it is so stuck to itself that I can't salvage it. I loved the look of the wall mural but it was a lot of money wasted on something that didn't even last a week.
See all 45 customer reviews