Wall Murals
Three Horses Grazing

In stock
Ships in 1-2 Business Days
You may also like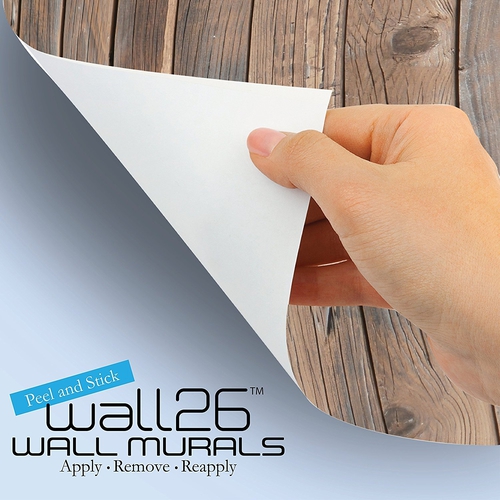 The wall mural is cut into 6 pieces for easy installation, each in 100"x24",total size is 100"x144" (Height x Width)
Very easy to apply, remove or reposition - Just PEEL & STICK!
Unique and one of a kind exclusive designs by Wall26®, for installation on flat dry surfaces indoor/outdoor walls doors and even windows
Won't leave a mark when repositioned like other cheap stickers on the market, no residue left behind
Product made in USA with fast shipping. 100% satisfaction guarantee.
Customer Reviews
Our Customers Say It Best
This is great! It wasn't super difficult to put up because I watched some YouTube videos before. On the third panel I think I got a bit cocky and wasn't as careful so it kind of was a domino effect. I had to adjust the rest of the panels because of my semi skewed third panel. But that's my own fault. I really like it. Now I just need to get new bedding.....
I always buy these my rooms or an office. I love the look but these are difficult to place! It is completely a two person project. I have owned three 100 x 144 so far. Here's my tip because it doesn't come with directions. DIRECTIONS---Start in the MIDDLE of the wall! Then work out left and right. Do not unroll the whole panel. When you begin to hang, free about one foot from the backing and get placing right. You'll be taking it on and off a few times for sure. CRITICAL---- Overlap each piece of vinyl by 1/2-1 inch on both sides. Does not work well on textured walls, but holds good and true on flat paint drywall. Do not allow the vinyl to roll over onto itself or that may be the end of your project because it's extremely sticky. And lawd, pray your project partner isn't a perfectionist or you might be hanging one panel until the apocalypse begins.
Beautiful love it! Easy to put up
Bought for my Cafe looks good
I never hanged wall paper before so it was a bit difficult for me. It does have an adhesive back so I did not have to use any paste. Absolutely no directions so I wasn't sure if I was supposed to overlap or abut side by side. The lines did not line up for each panel. However, it is placed in a hallway so you cannot tell unless you look at it straight away. I would but this product again (different pattern) and probably hang it better now that I have a bit of experience.
Was harder to put up then expected. Came without ANY INSTRUCTIONS. It went over another Mural but I didn't know it was self adhesive so it had to go on first try or I would rip the underneath one. But, it looks great and I LOVE IT. I have 2 eye ball lights shining on it and it looks awesome but the picture I don't have any lights except you will see at the left it has a haze to it but that's just the lights coming from the other room. I LOVE THIS after I GOT IT UP. :)
Fantastic image very fiddly to put up and a lack of any guide instructions.
It's a 1/2 wall in our living area - 66"x96". Requires 2 to install properly. Comes in 4 panels. Second panel doesn't line up w flower perfectly...not that noticeable. Panels 2-4 don't align well, no problem just aline the pebbles w panel 3 & flowers / sand w panel 4. Go back and trim top and bottom of wall art. It's beautiful! And It sticks well on textured walls. We love it!!!
i put it at my Formal Dining Room and it looks just gorgeous, even though I had a hard time getting it together because panel 3&4 don't mach, you have to work some magic, I would recommend to start from the middle and lots of patience, it's gunna take some time to get it done, but in the end you will be satisfied.
This product is hard to put up even with multiple people on the job. When everything is square elements of the picture are misaligned. One section was actually bowed and had to be overlapped just so the top and bottom would meet. It takes about an hour to put up one section.
See all 14 customer reviews