Artist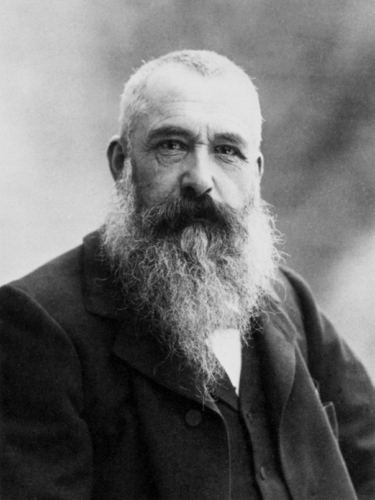 Oscar-Claude Monet (1840-1926) is a famous French painter and one of the founders of the Impressionism movement along with his friends Renoir, Sisley and Bazille.

Monet rejected the traditional approach to landscape painting and instead of copying old masters he had been learning from his friends and the nature itself. Monet observed variations of color and light caused by the daily or seasonal changes.

Claude Monet was born on November 14, 1840 on the fifth floor of 45 rue Laffitte,in the ninth arrondissement of Paris. He was the second son Claude Adolphe Monet and Louise-Justine Aubree. On the first of April 1851, Monet entered the Le Havre secondary school of the arts. He became known locally for this charcoal caricatures, which he would sell for ten to twenty francs. Monet also undertook his first drawing lessons from Jacques-Francois Ochard, a former student of Jacques-Louis David. On the beaches of Normandy in about 1856/1857 he meet fellow artist Eugéne Boudin who became his mentor and taught him to use oil paints. Boudin taught Monet "en plein air" (outdoor) techniques for painting.
Water Lilies by Claude Monet - Canvas Art
Make sure this fits by entering your model number.
High quality printed canvas stretched and stapled to durable shrink resistant frames.
1.50" thick stretcher bars for gallery quality profile.
Canvases are printed and hand stretched in the USA by professionals.
Hanging accessory kit included.
All Wall26 Products are made in and shipped from the USA.Be aware of counterfeit sellers with inferior products. Our products will never ship from China or overseas.
As it clearly says in the description, these are machine printed. What was I expecting.. The pixels are visible from 3 feet away. This now hangs in my bathroom.
The picture is taken with a HD iPhone 7plus camera
Not bad for the price. Not a substitute for a detailed hand-painted canvas/oil reproduction.
My mom is happy good quality
Nice print, very pleased. Now where to purchase a frame?
This is beautiful. One side is a bit wrinkled, but hope it will stretch out. I am a Monet lover, even if I can't come close to the real thing. As I said, this is lovely. Very fast shipping, thank you.
I purchased this to hang in my daughter's room. She loves Monet's water lilies. The colors aren't nearly as vibrant as they appear online, which is disappointing. My daughter loves it though and that's all that matters.
Looks great and matches my sofa/pillows amazingly well! (Lazy Boy furniture--blue sofa with "Van Gogh" patterned pillows).
Beautiful in our newly painted bathroom.
was what I thought it would be.
Nice looking, though I wish it was wider, and had come with the hanging hardware already attached. They are not hard to get on but you gotta make sure it doesn't flatter when being screwed on....
This is a very pretty rendition for Monet's Water Lily Pond/Japanese Bridge. These are much richer colors depicted here than I am accustomed to seeing for this work; but that was what I was looking for. The only issue was the picture did not line up quite right at the bottom of the canvas near the wrapping and where Monet's signature is. It is a little distorted there, and it appears some of the work is missing or shifted out of place. Given the overall beauty of the canvas, this is really a minor issue. And most people would never know the difference.
Write a review
See all 12 customer reviews