wall26 Large Wall Mural - Clear Blue Sky Seen Through Sliding Glass Doors | 3D Visual Effect Self-adhesive Vinyl Wallpaper/Removable Modern Decorating Wall Art - 66"x96"
Clear Blue Sky

In stock
Ships in 1-2 Business Days
About this product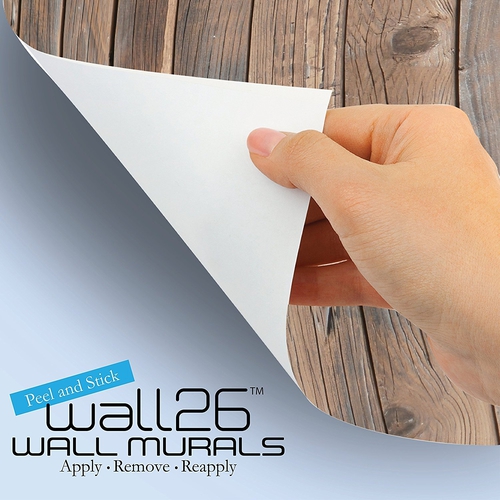 The wall mural is cut into 4 pieces for easy installation, each in 66"x24",total size is 66"x96" (Height x Width)
Unique and One of a kind Home Wall Sticker Design - by BestDealDepot
Very High Quality Self-adhesive Vinyl with 7+ year exterior life! Very easy to apply, remove or reposition - Just PEEL & STICK!
You can put it by yourself indoors or outdoors: walls, doors, widows or any flat and dry surface!
Won't leave a mark on your wall like other cheap sticker, no residue!
Product made in USA with fast shipping. 100% satisfaction guarantee.
Customer Reviews
Our Customers Say It Best
As other people said, if the seller wanted to, they could cut in spots to make it significantly easier to put up. It's a pain in the butt to apply and get all the cows to match up. With two very attentive people, I still had to take a black marker to the image to make the cows appear right. If all the cuts were at the edges of the faux windows, this would have been tons easier to apply. I don't know about shrinkage yet, but I'm keeping an eye out for it.
Easy to assemble. Great look. Really made a difference, the small room opened up.
Beautiful quality pictures and material. I attached to high gloss cement walls, and I put hot glue at top to insure the panels did not come down, they look beautiful! I used in creating a sensory room for special needs students.
This is perfect and beautiful, just what we needed
For the price of a 100 dollars this is well worth it. Of course if you want HD quality you will have to pay 4 times as much so perfect for the price.
I cut the image in half and used a razor blade to cut around the edges. Very easy to place on. A lot like putting on a largr sticker just take your time as I had to set it a few times as I kept not lining it up right.
Cons: yes the image did not match in one sections and over lapped it. Easily fixable just take your time matching them up. Yes noticed it will shrink so over lap 1/8 of inch is a good idea. It is up high so nobody but me will be able to tell. This served my purposes well but I wouldn't purchase it if it was down low as not HD quality.
This is really beautiful, but like the other review said, its cut in all the wrong places. Gets cut right in the middle of the water, sky. You will notice lines, its nearly impossible to get perfect. Also, you should over lap 1/4 to 1/2 inches. This thing will shrink somehow, even when applied to regular dry wall. I over lapped 3 mm, but it still shrank enough and there is about 3mm gap between sheets.
It is really beautiful. It is not difficult to apply it to the wall. I put it up by myself in less than 2 hours and and a 5'1, 90 lbs. woman. My only complaint is that after a week or so, the poster starts to shrink and thus it creates gaps in-between the panels. The glue does not seem to be strong either. Some of the edges needed to be redone with extra paste applied, otherwise the poster will start to lift up from the wall.