Peel & Stick Posters
Wallpaper Large Wall Mural Series (36 48 Majestic View)

In stock
Ships in 1-2 Business Days
You may also like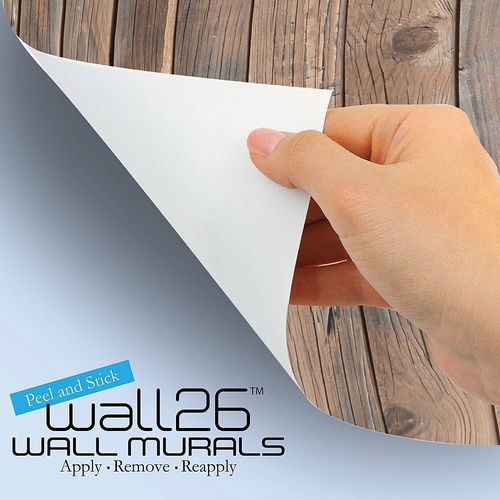 Product made in USA with fast shipping. 100% satisfaction guarantee.
Customer Reviews
Our Customers Say It Best
I put this in my son's room and it looks great. I had to sand the wall a bit...orange peel knock down. Then I washed it and applied a white primer plus paint (matte). I allowed this to dry and cure for a week. The only thing I wish I had done differently other han the instructions stated was to work from panel 6 to panel 1. My panel 6 was supposed to end up flush in a corner, but I was under the impression that I must start with panel 1 which means I had to hope my measurements were exactly right as I worked my way across the wall. That's a hard thing to keep perfect over a 12' span. So the vertical line in the corner is not perfectly flush with the wall corner and it bugs me. I am using a narrow piece of trim to even it out, but I realized after doing the whole wall that I really could have worked in the other direction. In fact, I don't think it matters which panel you start with. Do what makes sense for the space, but the pieces could overlap and match moving left to right and right to left...no matter.
Beautiful Picture... however...
The individual panels are not perfectly in scale.
If you try to go off of a level line you will find that the panels are canted.
They are not pealable, so when you try to pull off to adjust they take the paint the surface of the drywall with it, and you will find that the vinyl stretches and then leaves some very obvious bubbling. Don't use on builder grade paint. Some of the problems may be avoided if used on high quality paint. But let's face it, you'd either do that OR do something like a vinyl panel.
I had to trim the bottom two feet off because by that time the panels had gotten so stretched out that they didn't line up and the bubles were HUGE.
By the time I'd gotten done with panel two I was so incensed I needed a two week break before I'd tackle it again.
I'm not doingfull sized panels again.
My expeience level with home improvement & construction: Grew up building houses, degreed civil engineer
High quality and easily installed.
I was absolutely amazed at how easy this was to put up... it looks awesome!!!!
Great product! Stays on the wall and easy to apply. I will defiantly be getting more
This is the most beautiful scene you can imagine. And it looks amazing on the wall and adds depth and sophistication to your room. It is very easy to install even with just one person. Don't let it stick to itself but other than that it is really simple and even if he messes up it's OK you can re-apply it. Are used it in one apartment and moved it to my new apartment with no problem.
Pain in the ass to put up. You better have 3 people to install. Looks great!!!
This looks so good in my room! :-)
I have this in my office that faces the front of my house. People walking by, because they are inherently nosey, compliment me ALL the time! I say "Thank you for peeping through the blinds and reminding me to close them after the sun goes down". When we have cleared the air that they are a bunch of peeping tom's I sit back and realize, this thing is so cool. And yes, my office looks amazing and is a great place to be with this greenery. Also note, I have parrots in my office and this was my super fashionable way of making sure when they throw food or poop, it doesn't stick to the walls.
Beautiful.....looks amazing.....I would buy many of these again
See all 16 customer reviews