Wall Murals
Closeup of a Wall of Used Wine Corks a Random Selection of Use Wine Corks Some with Vintage Years

In stock
Ships in 1-2 Business Days
You may also like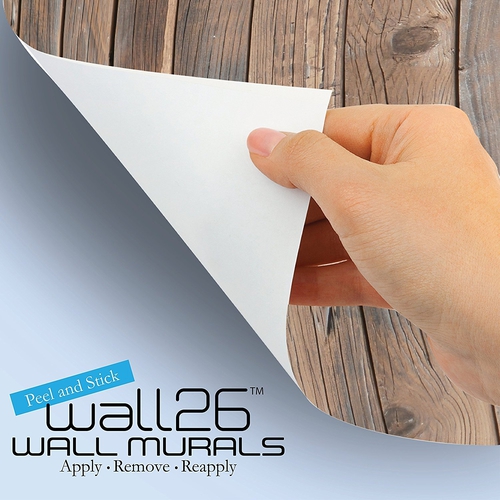 The wall mural is cut into 4 pieces for easy installation, each in 66"x24",total size is 66"x96" (Height x Width)
Very easy to apply, remove or reposition - Just PEEL & STICK!
Unique and one of a kind exclusive designs by Wall26®, for installation on flat dry surfaces indoor/outdoor walls doors and even windows
Won't leave a mark when repositioned like other cheap stickers on the market, no residue left behind
Won't leave a mark when repositioned no residue left behind.
Unique and one of a kind exclusive designs by Wall26 for installation on flat dry surfaces indoor/outdoor walls doors and even windows.
Very easy to apply, remove or reposition - just peel & stick.
Product made in USA with fast shipping. 100% satisfaction guarantee.
Customer Reviews
Our Customers Say It Best
Absolutely gorgeous but a pain in the neck to put up, you need two people.
The mural was a pain to put up. Took me 4 hours and there are a lot of wrinkles in it. Luckily the graphic is forgiving so, unless you're up close to the wall, it is unnoticeable. 3 stars for how realistic the graphic looks. Overall it is a good addition to my meditation room.
I bought the 24"x32", Clear Spring and Green Grass mural. I work in a small office that doesn't have a window so I wanted to add the illusion of space and airiness. This window mural is perfect for that. It only took a few minutes for me to adhere it to the wall opposite my desk. Now, every time I look up from my computer I can be transported to the outdoors to enjoy green grass, flowers and a flowing stream. The colors are vibrant and true. I did remove a star from my review because, although I really like this mural, it's not as easy to reposition (and probably even remove) as you're led to believe. I thought it would be held to the wall with something similar to static cling. However, the "adhesive" on the mural is very strong and it's actually difficult to reposition. I don't think it's a traditional adhesive but it is definitely powerful so you will want to get the positioning of the mural as close to right the first time you adhere it. I don't think it will damage the wall but more than likely it will tear when I attempt to remove it. However, it serves my current purposes and I'm really glad I found this.
Great background for the price.
Absolutely love it!!! It fit perfectly.
Impossible to get the bubbles all out. Tried pressing them out and the paper tore. Complete waste of money.
It peels off, when to panels stick together, your can't put it back on the wall.
Very disappointed. This NOT printed on canvas as the very first sentence of the note from the manufacturer described. I ordered this specifically because I needed something printed on canvas because it was going behind a heater. In addition to the material not being what I wanted, the resolution on the print was pixelated and horribly out of focus.
We had this on wall 20 minutes (and not even fully smoothed down) before deciding we needed to move 1 panel over slightly. Removing that panel ripped huge chunks of paint off, down to the drywall. This was a perfectly dry, flat wall in new construction. We were shocked at the amount of damage, especially when we thought about what it would do once it was smoothed out and on there awhile, based on this experience, so ended just taking the rest off and and throwing the whole thing in the trash. So a complete waste of $100 and an hour of time on a Sunday.
I would not be upset if this product was not SPECIFICALLY SOLD AS REMOVABLE. Seems a bit disingenuous to state this without stating that it will likely destroy your walls in the process. Otherwise it's pretty and easy to install but warning, if you are a renter, or don't want to have to do massive repairs if/when you decide to remove this product, do NOT buy this!
This is such a great way to make apartment life feel like you own it because it is not permanent-
the removable wall paper allows you to add those personal touches to your space- I have this one in my living room
and another one in my bedroom- I love it Thank youo
See all 100 customer reviews